Jump to recipe
These soft, fluffy, and luscious Strawberry Rose Cake Donuts make the perfect dessert to celebrate Katherine's Baby Shower party, coming spring…or just any other day!
Hey all. I will keep it simple and classy today. Afterfall, this is not about me – we have gathered to honor Katherine and the amazing event.
Why Strawberry Rose Cake Donuts, you might ask? That wasn't an easy decision, indeed. Honestly, the pink theme has baffled me. That's not exactly my color. I had had a plenty of the "blue-themed" ideas, but the pinkish food made me think (I even thought to cheat a bit and make something lavender which is my kind of story. However, I decided to be strong and stick to the pink color.)
Instantly, I thought of Nanaimo bars as this totally made sense. Katherine – Canada – Nanaimo bars. The only one odd thing in this connection was the fact that Katherine lives in Alberta, and asking her move to British Columbia, for a strong dramatic effect, sounded a bit too drastic. This is not a completely honest answer, though. The truth is that although raspberry or strawberry, or any other pinkish Nanaimo bars sounded lovely, both Andrey and myself prefer more decadent desserts (I know what you think – you're an egoistic dude, Ben! This party is supposed to be about Katherine, not about your personal tastes. Guity.) Besides, those Nanaimo bars would have been overly sweet.
My next idea was pink choux pastry, but I ended up creating these Red Velvet Profiteroles for Valentine's day. Similar idea? Not comilfo.
As a result, I opted for these Strawberry Rose Cake Donuts. Although I am not a huge fan of strawberries in baked goods, they turned out delicious! Since it's hard to find fresh strawberries with a distinctive flavor in winter, I decided on using some dried berries. I think this worked out well as the dried strawberries introduced more texture. And being a huge fan of rose water, I had no doubt to pair it with strawberries.
Well, I guess I should wrap it up as I promised to keep it simple today.
Once again – congratulations, Katherine! And please, if we have another baby shower for you at some point, would you please consider having the blue-themed party? :)
Strawberry Rose Cake Donuts and a Virtual Baby Shower
Notes
havocinthekitchen.com

Ingredients
Donuts
1 and 1/3 cup all-purpose flour
1/2 teaspoon baking powder
a little pinch of baking soda
pinch of salt
2 tablespoons golden sugar
2 tablespoons butter, melted + some additional buter (or cooking oil spray) to grease
3 tablespoons olive oil
1 large egg
1/2 cup milk
1 teaspoon vanilla extract
1/2 cup dried strawberries, roughly chopped
Glaze
1 (or a bit more) cup powdered sugar
1 tbsp of rose water or more, to taste
few dried strawberries, chopped
Instructions
Soak the dried strawberries in warm water, for about 20 minutes. Drain and chop.
Preheat the oven to 420 degrees F (215 degrees C).
Butter holes of donut tins and set aside.
In a large bowl, mix together first five ingredients.
In a separate bowl, using a whisk, blend together the melted butter, sugar, oil, vanilla extract, for one minute. Add the milk and the strawberries. Stir the wet mixture in the dry ingredients and mix just to combine (don't overmix!)
Spoon butter into donut wells, filling them about 1/4 inch from the rim. Bake in the preheated oven 7-8 minutes.
Let the donuts cool in the tin for a couple of minutes then transfer them to a wire rack and completely cool.
In a small bowl combine the rose water and 1 cup of powdered sugar gradually adding either more sugar or rose water (milk, water) to get the desired consistency. Whisk until smooth and nice and glaze the cooled donuts. Sprinkle with the white strawberries.
Let the glaze set or gobble up immediately :)
Enjoy!
Meet our guest of honor: Katherine! Katherine blogs over at Love In My Oven and is the proud momma to two boys and a soon-to-arrive baby girl!!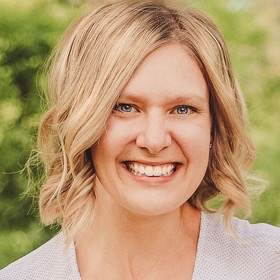 You don't need to know Katherine to join in the fun, just enjoy all of the pink themed recipes the bloggers are bringing to the party! Scroll down to see what the bloggers are sharing, and click on the links to hop over to their blogs to check their recipe out.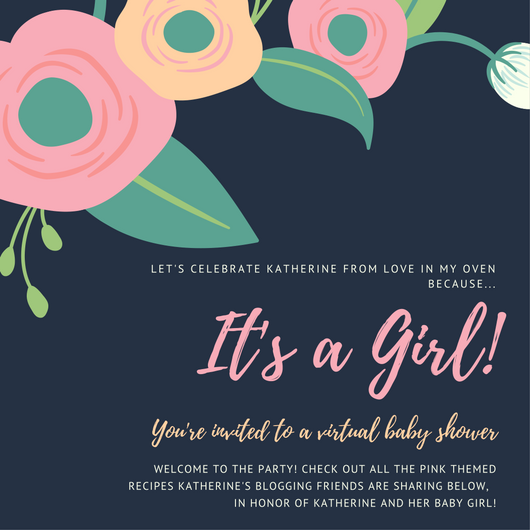 Thanks for joining the party and I hope you enjoyed all of these fun recipes!
Hi – I'm Ben, a blogger, recipe developer, and food photographer. I'm glad you're here! I hope you will enjoy hundreds of delicious recipes and a pinch of havoc in the kitchen.